Authors
Laura
Saunsbury
Consultant solicitor
Laura Saunsbury is widely recognised as a leading solicitor in the field of firearms law.
She qualified as a solicitor in 1993, and from early in her career established an excellent reputation in her specialist field of criminal defence work. In 2007 she joined Lewis Nedas as a consultant solicitor, having previously been a founding partner in a successful criminal defence practice.
Having taken up shooting as a hobby, Laura began to develop a professional interest in firearms law. Over the past 15 years Laura has built a niche practice specialising exclusively in firearms licensing law and associated areas. Laura gives advice and representation to individuals, clubs, and registered firearms dealers in relation to firearms licensing and also criminal offences involving firearms.
An enthusiastic advocate of the shooting sports, Laura has in the past tried her hand at most types of shooting and has particularly enjoyed practical pistol and practical shotgun, as well as clay pigeon shooting. Laura therefore brings to her writing style, and to her advice to her clients, practical experience of shooting and firearms as well as her legal expertise in firearms law.
In addition to the book, Laura writes articles on firearms law related matters for the national and shooting press, takes part in broadcast interviews for radio and television, and also writes and co-presents with Nick Doherty training webinars on firearms licensing and criminal offences involving firearms.
Laura holds the following positions;
Honorary Solicitor since 2009 to the Clay Pigeon Shooting Association, the governing body in England for the sport of clay target shooting;
Honorary Solicitor since 2015 to the Deactivated Weapons Association, the UK trade body for dealers and collectors of deactivated weapons;
Trade member and preferred partner of the Gun Trade Association, the UK trade body for firearms dealers.
Laura receives regular referrals from the above and other national shooting organisations, such as the National Rifle Association, the British Association for Shooting & Conservation, the Sportsman's Association, and the Country Land & Business Association to advise and represent their members throughout England and Wales.
As a solicitor Laura can be contacted at Lewis Nedas Law or on 020 7387 2032.
Personal Interests
Laura is a fluent French speaker. She enjoys getting out in the countryside, whether its to go shooting, skiing or for long walks with the family.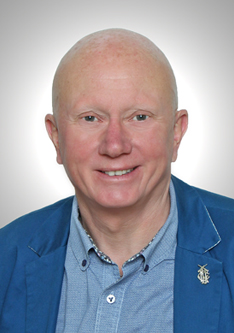 Nick
Doherty
Barrister
Nick Doherty is one of the leading firearms barristers in the country.
He has appeared in numerous criminal cases and firearms licensing appeals and together with Laura Saunsbury gives lectures and training webinars to other lawyers on firearms licensing and criminal offences relating to firearms.  He has been practicing law, and shooting, for over 35 years.
Nick's practice almost exclusively consists of the following areas:
Firearms Licensing
Firearms related Crime
Disputes concerning shoots, shooting grounds and clubs
Advising in appeals concerning firearms offences
Condemnation proceedings where importers of antique or imitation firearms and other militaria have their goods seized by Border Force.
His first reported case was R.v.Stubbings in the Court of Appeal in 1989, a case which defined 'ammunition' in English law and is still good law today. He has been involved in many firearms related cases in the Court of Appeal and the Crown Court since then. Because of this specialist knowledge in 2020 Nick was asked to prosecute the 'M25 Range case' concerning the use of the exemption in Section 11(4) of the Firearms Act 1968.
Nick is a Liveryman of the Worshipful Company of Gunmakers, an International Legal Advisor to the International Council for Game and Wildlife Conservation, as well as being the chairman of a shooting club.
Although the majority of Nick's work is firearms related he occasionally takes on other criminal work and health and safety cases.
As a barrister Nick can be contacted at www.brudenellchambers.com or on 0208 144 2212